Mom's time out was created by Heather over at Theta (The True Authentic) Mom. The idea is to take at least an hour to yourself every week to do whatever you wish,
without
the kids. You too can take part. Just click the button below and link up your Time Out over on Heather's blog!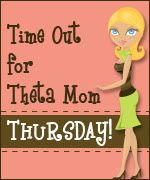 On Monday Emma took a long 2-hour nap, God Bless her. Normally I run over to my laptop and do some blogging or enter giveaways, but this time I decided to have a date with my other lover, the DVR. I had recorded Sunday night's episode of Desperate Housewives - which has been really good so far this season! I grabbed some lunch and plopped myself on the couch, extended the recliner out and ahh...I actually got to watch an entire episode uninterrupted!